Introduction
Sonic Drive-In, with its iconic drive-in dining experience and diverse menu, holds a special place in the hearts of Americans. Since its founding in 1953, Sonic has been synonymous with carhops, roller-skating servers, and mouthwatering fast food. In this article, we will explore the world of Sonic Drive-In, its unique approach to fast food, and why it remains a beloved choice for families and food enthusiasts alike.
1. A Classic Drive-In Experience
1.1 The Carhop Tradition
One of the standout features of Sonic Drive-In is its nostalgic carhop service. Sonic carhops, dressed in roller skates, bring orders right to customers' cars, adding a touch of fun and nostalgia to the dining experience. This unique approach sets Sonic apart from traditional fast-food establishments.
1.2 Ordering at the Stall
While the classic carhop service remains an option, customers can also choose to place their orders at the stall, where they can customize their meals and enjoy the convenience of quick service.
2. Sonic's Diverse and Flavorful Menu
2.1 All-Day Breakfast Delights
Sonic's commitment to all-day breakfast means that customers can enjoy their favorite breakfast items any time of day. From hearty breakfast burritos to the classic Breakfast Toaster sandwiches, there's something for everyone.
2.2 Mouthwatering Burgers and Hot Dogs
Sonic is renowned for its delicious burgers and hot dogs, made with 100% pure beef and served on toasted buns. With an array of toppings and condiments to choose from, customers can customize their burgers to their heart's content.
2.3 Irresistible Frozen Treats
Sonic's extensive selection of frozen treats includes hand-mixed Shakes, CreamSlushes, and the famous Sonic Blast. These delightful treats come in a variety of flavors, making them perfect for satisfying any sweet craving.
2.4 Flavorful Tater Tots and Onion Rings
No Sonic meal is complete without their signature Tater Tots and crispy Onion Rings. These side options complement the main dishes and add a satisfying crunch to every bite.
3. Sonic's Innovative Drinks Menu
3.1 The Famous Sonic Drive-In Drinks
Sonic's drinks menu is a standout feature, offering an array of refreshing options. The ever-popular Cherry Limeade, Ocean Water, and Powerade Mountain Blast Slush are just a few examples of Sonic's flavorful and innovative beverages.
3.2 Happy Hour Specials
Sonic's Happy Hour, available every day, offers discounted prices on drinks, making it the perfect time to try new favorites or enjoy classic Sonic drinks at a great value.
4. Embracing Technology
4.1 Sonic App and Online Ordering
Sonic embraces technology to enhance the customer experience. Through the Sonic app and online ordering, customers can place their orders ahead of time, skip the line, and pick up their meals with ease.
4.2 Contactless Payment Options
Sonic Drive-In also offers contactless payment options for added convenience and safety, providing customers with a seamless and secure way to pay for their orders.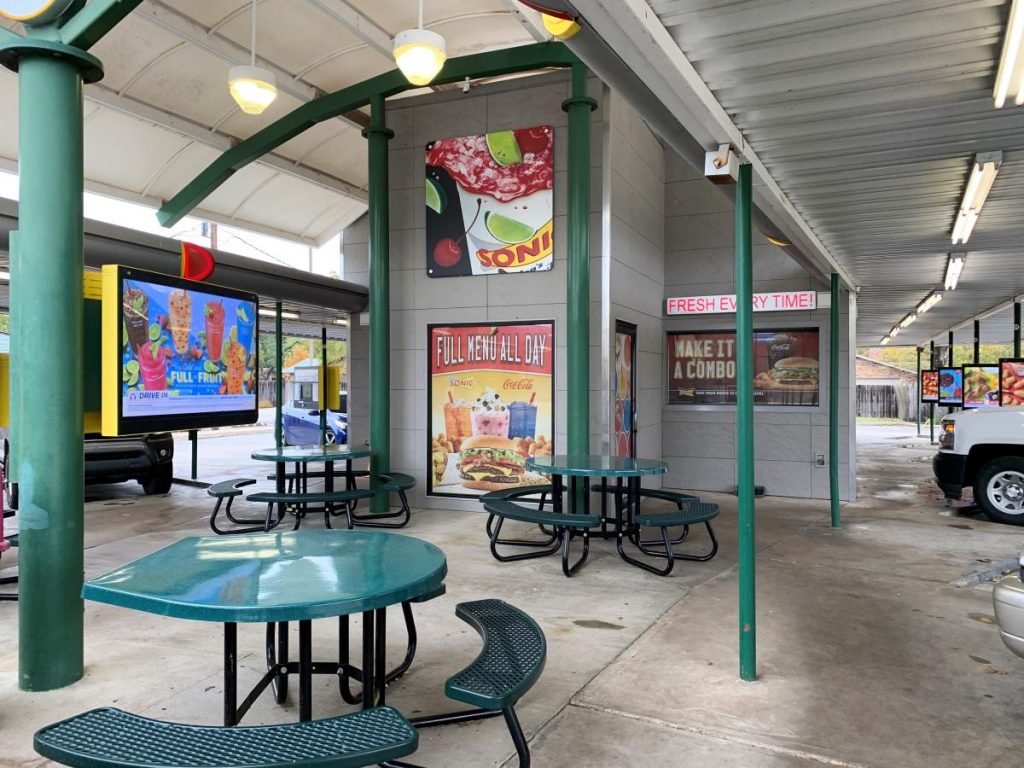 5. Conclusion
In conclusion, Sonic Drive-In continues to capture the hearts of Americans with its classic drive-in experience, diverse menu, and innovative offerings. From the nostalgic carhop service to the mouthwatering burgers, flavorful drinks, and tempting frozen treats, Sonic offers a delightful fast-food experience for customers of all ages. With its commitment to quality, convenience, and customer satisfaction, Sonic Drive-In remains a beloved destination for families and individuals seeking a memorable and delicious dining experience.