Introduction
In today's fast-paced world, where everyone is constantly on the go, taking care of oneself and maintaining natural beauty has become a top priority. People are increasingly seeking products that are not only effective but also safe and environmentally friendly. Lavera, a leading natural cosmetics brand, has emerged as a reliable solution for those who wish to embrace the goodness of nature in their beauty routines. This article delves into the world of Lavera, exploring its history, philosophy, product range, and the reasons why it has gained immense popularity among beauty enthusiasts worldwide.
1. The Beginnings of Lavera
Founded in 1987 by Thomas Haase, Lavera started as a humble organic skincare brand in Germany. Haase's vision was to create products that were not only effective in nurturing the skin but also free from harmful chemicals that are prevalent in conventional cosmetics. Lavera quickly gained recognition for its commitment to using natural and organic ingredients, setting it apart from the rest of the beauty industry.
2. Lavera's Philosophy
Lavera's philosophy revolves around three core principles – natural, effective, and sustainable. The brand is dedicated to using plant-based ingredients sourced from certified organic agriculture. These ingredients not only nourish the skin but also work harmoniously with the body's natural processes, providing lasting results.
3. Exploring the Product Range
Lavera offers an extensive range of skincare, haircare, and body care products that cater to various beauty needs. From cleansers, moisturizers, and serums to shampoos, conditioners, and masks, Lavera covers every aspect of natural beauty care. Each product is thoughtfully crafted to address specific concerns while ensuring the overall well-being of the user.
3.1 Skincare
Lavera's skincare line includes products for all skin types, from oily and acne-prone to dry and sensitive. Their use of botanical extracts like aloe vera, chamomile, and jojoba oil provides the skin with the nourishment it needs to stay healthy and radiant.
3.2 Haircare
Lavera's haircare range is designed to revitalize and rejuvenate hair naturally. Whether it's a volumizing shampoo, a repairing conditioner, or a nourishing hair mask, Lavera's haircare products ensure that your locks are treated with care.
3.3 Body Care
For a pampering and refreshing experience, Lavera's body care products are a go-to choice. From luxurious body lotions to invigorating shower gels, these products leave the skin feeling soft, supple, and beautifully scented.
4. The Lavera Difference
What sets Lavera apart from other natural beauty brands is its commitment to transparency. Lavera provides full disclosure of its ingredients, allowing customers to make informed choices. Moreover, the brand's cruelty-free approach and eco-friendly packaging further enhance its appeal to environmentally-conscious consumers.
5. The Lavera Effect
Lavera's products have garnered a loyal customer base globally. Users often report visible improvements in their skin and hair texture after incorporating Lavera into their beauty routines. This efficacy, combined with the brand's ethical values, has contributed to its growing success.
6. Frequently Asked Questions
6.1 Are Lavera products suitable for all skin types?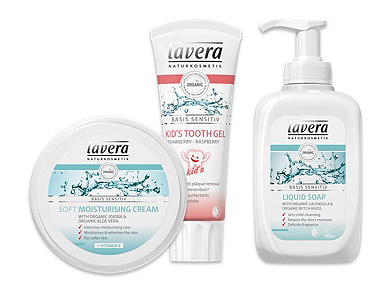 Yes, Lavera offers a wide range of products suitable for various skin types, ensuring that everyone can find products that cater to their specific needs.
6.2 Is Lavera a cruelty-free brand?
Absolutely! Lavera is firmly against animal testing and is certified cruelty-free by recognized organizations.
6.3 Can I use Lavera products during pregnancy?
Yes, Lavera's natural ingredients are generally safe to use during pregnancy, but it is advisable to consult with a healthcare professional before trying any new products.
6.4 Does Lavera use sustainable packaging?
Yes, Lavera is committed to using eco-friendly packaging that minimizes its impact on the environment.
6.5 Where can I purchase Lavera products?
Lavera products are available on their official website and at various retail outlets worldwide. Check their website for the nearest store or shop conveniently online.
Conclusion
Lavera has undoubtedly made its mark as a pioneer in the realm of natural cosmetics. With its unwavering commitment to using pure, organic ingredients, the brand has managed to capture the hearts of beauty enthusiasts looking for effective and ethical solutions. So, if you're seeking a beauty regimen that embraces the power of nature without compromising on quality, Lavera is undoubtedly worth exploring.