Introduction
In the fast-paced world of today, self-care and maintaining youthful, radiant skin have become paramount for people of all ages. This quest for timeless beauty has led to the rise of various skincare brands, each promising the ultimate solution. Among them stands out "Sans Soucis," a brand that has captured the essence of natural beauty for decades. In this article, we will delve into the secrets of Sans Soucis and explore what makes it a beloved choice for skincare enthusiasts worldwide.
1. The Origins of Sans Soucis
Founded in 1939, Sans Soucis was born in the heart of Baden-Baden, Germany. The name itself, meaning "carefree" in French, reflects the brand's philosophy of embracing natural beauty without worries. With a deep understanding of the healing powers of thermal waters and the richness of botanical extracts, Sans Soucis began its journey to revolutionize the skincare industry.
2. Harnessing the Power of Nature
At the core of Sans Soucis lies an unwavering commitment to utilizing nature's finest ingredients. The brand's products are enriched with minerals from natural thermal springs, carefully selected plant extracts, and nurturing oils that work harmoniously with the skin. This unique combination ensures effective results while remaining gentle on all skin types.
2.1 The Healing Springs of Baden-Baden
One of the key factors that set Sans Soucis apart is its source of inspiration – the healing thermal springs of Baden-Baden. Known for their rejuvenating properties, these springs provide the basis for many of Sans Soucis' formulations. Rich in minerals, these waters contribute to healthier and revitalized skin.
2.2 Botanical Brilliance
Sans Soucis proudly embraces the gifts of Mother Nature, harnessing the botanical brilliance of plants like chamomile, rosemary, and lavender. These natural extracts soothe, nourish, and protect the skin, ensuring a radiant and youthful complexion.
3. Innovation and Research
As time progresses, so does skincare technology. Sans Soucis keeps pace with cutting-edge innovations and scientific advancements to continuously improve its products. The brand invests in research to understand the ever-changing needs of skin and adapt its formulas accordingly.
3.1 Tailored Solutions for All
Sans Soucis recognizes that each person's skin is unique, and as such, they offer a diverse range of products to address various concerns. Whether it's dryness, sensitivity, aging, or blemishes, there's a tailor-made solution for everyone.
3.2 Cruelty-Free and Sustainable
Aside from prioritizing the well-being of its customers, Sans Soucis also cares deeply for the environment and the welfare of animals. All their products are cruelty-free and manufactured with sustainable practices.
4. The Sans Soucis Experience
Sans Soucis is more than just skincare; it's an experience that takes you on a journey of self-discovery. With luxurious textures, enchanting fragrances, and visible results, using Sans Soucis products becomes a sensorial delight.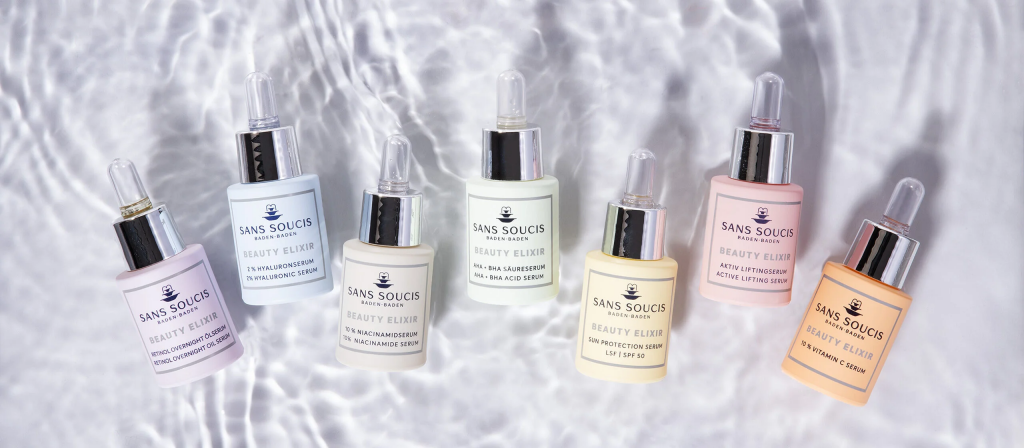 4.1 The Art of Anti-Aging
As we age, our skin requires special attention. Sans Soucis offers an exquisite anti-aging collection that combats the signs of time, giving your skin a renewed, youthful glow.
4.2 Pampering Body Care
Sans Soucis extends its expertise beyond facial skincare, crafting indulgent body care products that pamper your skin and leave it feeling soft, supple, and cared for.
5. Testimonials from Devoted Users
A brand is truly defined by its customers' experiences. Let's take a look at what some Sans Soucis users have to say about their journey with the brand:
5.1 Emma's Story: Embracing Natural Radiance
"I've always struggled with sensitive skin, and finding the right skincare products was a challenge until I discovered Sans Soucis. Their gentle yet effective formulations have transformed my skin, leaving it radiant and free from irritation."
5.2 Michael's Fountain of Youth
"As a man in his mid-40s, maintaining youthful skin was never a priority. But after using Sans Soucis' anti-aging range, I couldn't believe the difference! It's like a fountain of youth in a bottle."
Conclusion
Sans Soucis has gracefully woven the secrets of nature into every product, empowering individuals to embrace their unique beauty and age with confidence. With its commitment to innovation, sustainability, and customer satisfaction, Sans Soucis remains a leading pioneer in the skincare industry.